It's Lisa here to introduce our new challenge

Inspiration From Something In Your Home
and for this one you'll need to include a photo of what inspired your project.
This can be anything - ie a plant, a soft toy, some material, a picture anything! but
please include the photo of your inspiration!
Don't forget your tips too if you want to be in the running for a Guest Designer spot!
Speaking of tips, here's one from Deneen!
Sometimes inspiration comes from a picture or photo but it can be difficult to extract the colours you want to use.
I found a site a while ago that can help you with choosing colours!
It's called Chip It!
So how exactly does it work? You will get your colour combinations from a photo! I'll show you 2 ways on how to use it.
You decide whether you will use an image from your computer or from the web.
Here is the photo I want to use, it's one I took of my son on a carnival ride. How many of you are like me and see only 3 colours? White, blue and orange. Click on the Upload An Image button, choose the photo from your computer.
It takes a few seconds to do it's work and then...BAM...it's done, I now have 5 colours to choose from.
But what if it chooses colours you don't like? Here is a photo I uploaded of the flowers from my mom's wedding this past summer. But look, I was hoping it would choose the pinks and greens and it didn't.
No worries! See that Edit Colors button? Click on that and it will give you another 5 colours!
Yay! That's more like it. Now you just drag the colours you want to use to replace the dark blues and grays.
Now you want to choose a photo from online? On the menu bar it says New Chipcard. A little drop down menu pops up.
Pinterest has lots of great photos! I'm going to choose one from there. Click on the photo you want and Copy the URL from the address bar.
Go to the drop down menu and Paste it into the spot indicated.
It will give you lots of options, and you can see the photo I want right at the top. Just click on the one you want.
It did it's work and came up with some awesome colours! Don't forget, you can click on the Edit Colors for more options. There's even a Pin It button if I want to save it to one of my boards in Pinterest!
Okay, go have fun making colour combinations!!!!

And the prize is a generous $20 voucher to the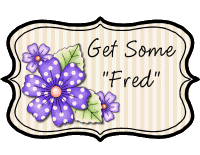 Fred She Said Designs offers a wide variety of digital products with a floral flair and cute characters too - Digi's, Pre-coloured images, Papers, Sets, Fred's Flower Kits, and even digital cutting files. Have some fun with Fred!
Our Top Tipper Guest Designer
My inspiration - It's not from my home but from my church.
It's a giving tree and it reminded me/us of the gifts the three wise men
brought to baby Jesus.
My Tip:

When stamping on top of a patterned paper use a lot of ink and press really hard. The first card I made just had way too much of the pattern showing through. The second I inked much more and pressed harder and it came out very nice.
Great traditional Image love your card Robin
but I REALLLLLLLY love your explanation
for your inspiration
Our Design Team
My inspiration
does't look very inspirational, but he evokes memories of so many wonderful Christmases past.
Tip: A

lways test older embossing powder before you put it on your project. Apparently it can get old and this results in a less than desirable effect. (Don't ask me how I know this.)
Here comes my inspiration photo, it´s a cute angel made by my little daughter when she was at the kindergarten and each year it´s one of our first Christmas decoration accessories.
TIP:For some fast little gifts you can decorate a glassine paper bag and put a tag with your wishes and greetings inside, so you have two in one, gift wrap and card.
Elaine
My inspiration is one of my son's
My inspiration was finding a big bag of pegs which I haven't used for many years
I hope you'll agree they look a lot prettier now!
My inspiration is from a Fairy Door ornament I have in my craft room
I have made myself a wall hanging to go along side it
TIP: ~ when using gilding wax either wear plastic gloves or apply with some cut and dry foam and not your finger, I have lovely green, blue and gold fingers at the moment, lol.
Samantha
My Inspiration is from a Frog ornament I have had for years
I have made a Hat for my Great Nephew
Its his 2nd Birthday so I think he will have lots of fun in this hat
Sue
My sons have so many teddies, but this Christmas Bear from 4 years ago (they have one each) is much loved :-)
Tip: While many of our Seasonal cards tend to be quick, it's quite nice to go for it big time on a few! I get very bored if I'm doing the same thing over and over (which is why I will never make wedding stationary ever again!) so doing a little bit of my normal style makes me happy :-) My final tip is to not beat yourself up if not everyone on your Christmas list gets a handmade card - while its lovely to do, it's a busy period for us all, and I now limit my more extravagant creations to those who will appreciate them (and hopefully keep them!!)
Here's my inspiration picture :)
Tip - To make some matting of your image and to lessen the weight of your card (as well as save cardstock) try using the underlayer of your image for the die cut layer. It's covered so it won't show that there's a hole in it if you use it on a blank white cardstock like I do.
We can't wait to see your fab projects and inspiration photos!