Good Morning Top Tip Tuesday Friends
Well there goes another week zipping past mega fast! Great entries so far for our One for the Men Challenge,
By now you know we have a Who Caught our Eye post which is chosen by the DT out of entries submitted in week 1
So Who caught the DT's Eye this week?
Its you! Dorte!!
What a stunning card Dorte,
We love your card and love that you have captured such humor in a masculine card. Little Henry is really living the life. The textures and scenery with bugs and all look fabulous together on your side step card!
So that means you
win a Guest Design Spot!
Here's your badge to Grab! for your blog
Dorte contact me (Samantha) at toptiptuesday@hotmail.co.uk with (C.O.E Winner One for the Men) in the subject line to find out about being our Special Who Caught our Eye Guest Designer!
If you have not won our COE spot its not cause we did not love your creation its because we have only choose one! :(
Here is some more Inspiration from our teamie
Tammy Louise
.
Tammy's also got a Tip for you:

Add your own little touch with texture stamps and microsoft and fiscars has scissors allowing you to trim any size any time.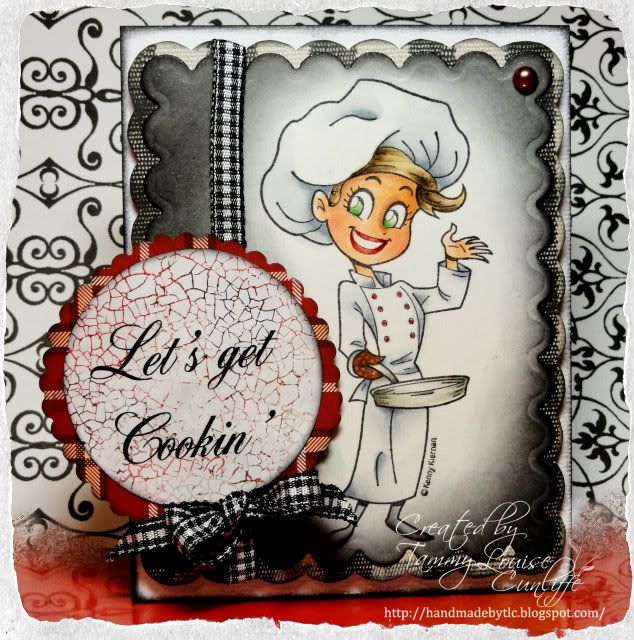 So you have 6 days left to join in,
You can enter 3 different creations and you can also leave a Tip with the creation or Enter a separate Tip But..... PLEASE remember to add Tip next to your name when you link up.
The challenge closes on Monday 16th July at 6pm!
Hugs Samantha and the Team :0)